Scouts have challenge badges, that work towards their Chief Scouts Gold badge, and over seventy activity badges that let them discover many new activities.
After your child has gone through Beavers and Cubs, by now they should know exactly which badge goes where and even how to sew it on…so let them!!…here's the badge layout for the Scout shirt if they're still not sure.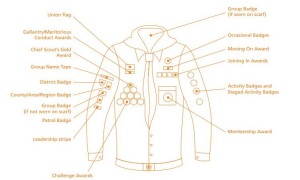 More information about scout badges can be found on the scouts.org.uk website.