Scouting is a uniformed organisation. When you join, you need to buy the uniform from the Scout Shop before you are invested (normally a few weeks after joining).
Warrington East Scout Shop is currently closed. You can order uniforms online from the Mersey Weaver scout shop: https://shop.mwscouts.org/product-category/uniform/ Their profits are returned back into local scouting.
You can also order uniforms online at http://www.scoutshops.com/ Any profits from there are returned to The Scout Association.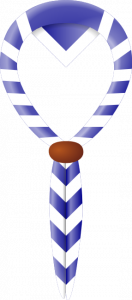 Everyone in 18th Warrington East (4th Lymm) has a blue and white neckerchief held in place with a woggle and at least the following three badges (once invested): the World Membership Badge (purple circle), the Cheshire County / Warrington East District Badge (a badge with a wheatsheaf and a rose on the right sleeve) and the Group Nametape (top of the right sleeve). You will be presented with these items by the leader when you are invested. Beavers and Cubs are also given a logbook (with badge stickers) when they join our group.
If you have just moved up from Beavers to Cubs, or from Cubs to Scouts, then you may wear your old uniform until you are ready to be invested. Please continue to use your old neckerchief. If you want to keep your old uniform intact please let a leader know so they can give you duplicates of your staged activity badges, participation awards, international badges and bronze / silver or gold awards.
You may purchase replacements for lost neckers and woggles (~£5).
Optional items are marked as such below and you do not need to buy them. Navy or black softshell trousers are probably a cheaper and more practical option then the optional dark blue scout activity trousers. Please come along to meetings in trousers suitable for outdoor activities. You may want to get a second-hand uniform from someone who is moving up into the next section – ask the leaders to put you in contact with somebody. You can also purchase good quality second hand uniform very cheaply online.
All items of uniform, including neckers and anything else that your child is likely to take off, must be clearly named.
As well as the uniform below, there are optional waterproofs, fleeces, hats, hoodies, belts, t-shirts, polo shirts, socks and caps. The Scout shop also has a range of other scout branded rucksacks, cups, badges, books. In fact all things Scouting.
---
Beaver Scout Uniform
Turquoise Sweatshirt ~£14
Woggle, Group neckerchief and badges (ordered and presented by leaders)
Turquoise Polo Shirt ~£12 (Optional).
Dark Blue Activity Trousers ~£15 (Optional)
Dark Blue Activity Shorts ~£12 (Optional)
Beaver Scouts "Adventure all the Way" Book ~£2 (Optional)
Beaver Scout Badges and Awards book ~£4 (Optional – badge requirement details are all available online, just search for "scouts.org.uk")
---
Cub Scout Uniform
Dark Green Sweatshirt ~£15
Woggle, Group neckerchief and badges (ordered and presented by leaders)
Dark Green Polo Shirt ~£14 (Optional)
Dark Blue Activity Trousers ~£15 (Optional)
Dark Blue Activity Shorts ~£12 (Optional)
Cub Scout Activity Log and Pocket Books 1, 2, 3 ~£7 (Optional)
Cub Scout Badges and Awards Book ~£5 (Optional – badge requirement details are all available online, just search for "scouts.org.uk")
---
Scout Uniform
Teal Green Long Sleeved Shirt ~£20 (Note: Buy with some growing room – you'll be amazed how much your child will grow over their four years in Scouts, and it takes a VERY long time to transfer across all those lovely badges they've earned to their new shirt)
Neckerchief, woggle and badges (ordered and presented by leaders)
Dark Blue Activity Trousers ~£18
Belt, leather ~£16
Dark Blue Activity Shorts ~£14 (Optional)
Scout Activity Log and Pocket Books 1, 2, 3 ~£12 (Optional)
Scout Badges and Awards Book ~£5 (Optional – badge requirement details are all available online, just search for "scouts.org.uk")